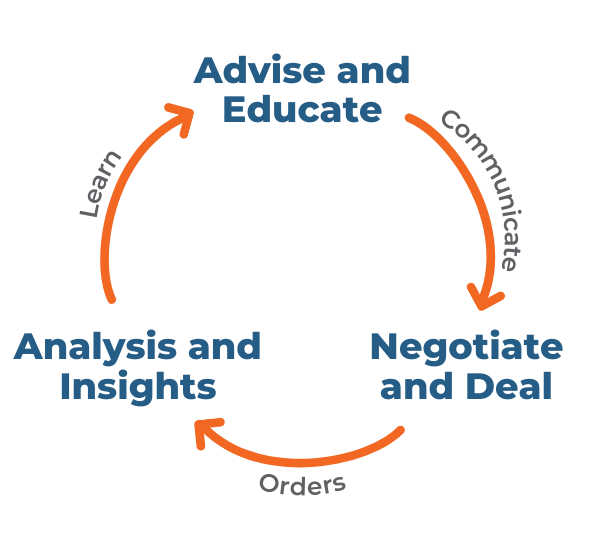 Advise and Educate
Provide the right information to the most customers to maximize sales opportunities.
Negotiate and Deal
Access what you need, when you need it to sell more easily.
Analysis and Insights
Utilize business intelligence to improve sales performance.
Why Our B2B Sales Strategy Works
We've developed a way to sell better. Our methodology is the way we operate, and it's the way our technology is designed.
No matter what point you are in the sales cycle, jump on the sales velocity wheel to start building greater momentum.
The advise and educate phase of the wheel enables you to inform your customers by providing them with relevant promotional content, in the most convenient way. Conduct face-to-face visits with the most customers possible to discuss opportunities. This phase enables effective communication between you and your customers, growing relationships, and maximizing sales opportunities.
The negotiate and deal phase of the wheel enables you to efficiently complete the at-show or in-store sales process, and to offer the most relevant deals to sell more easily. This phase helps you generate the most orders possible, with the greatest return.
The analysis and insights phase of the wheel enables you to find whatever information you need when you need it. This phase helps you learn from the intelligence to improve outcomes.
Combine Perenso Trade Show and Perenso Field Sales to maximize momentum and achieve the best results.